STUDENT BODY EXPANDS SEMESTER TICKET THANKS TO MIRROR PROJECT

The time has finally come: the expansion of the semester ticket is here!
Since September 1, 2022 you can use your existing semester ticket for public transportation (regional trains, S-Bahn, trams, city buses, regional buses, ferries, etc.) in the entire network of the Verkehrsverbund Warnow (VVW). Currently, this network includes the city of Rostock and the district of Rostock.
FURTHER INFORMATION ABOUT THE VVW NETWORK CAN BE FOUND HERE:
How has this come about?
This expansion is made possible by the MIRROR public transportation model project. This project was selected by the German Federal Ministry of Digital Affairs and Transport (BMDV) for funding throughout Germany as part of the "Model Projects to Strengthen Public Transportation" program. In addition to the BMDV, the Federal State of Mecklenburg-Western Pomerania is also supporting the project, enabling the promotion of climate-friendly mobility in the Rostock regiopolitan region. The project also focuses on concrete community, traffic, infrastructural and accompanying measures that are intended to sustainably and effectively increase societal participation in the region.
More information about the MIRROR project: https://mirror-macht-mobil.de/
Since there have been efforts to expand the area of validity of the ticket for many years, the Student Parliament (StuRa) has decided to expand the semester ticket vis the MIRROR project. In order to avoid increasing the price of the semester ticket due to the expansion, the project is additionally supported through the residence bonus. This means that there are no additional costs for students!
The most important facts at a glance:
The semester ticket is valid for the entire network of the VVW (city and district of Rostock) starting September 1, 2022.
The MIRROR expansion of the semester ticket is currently valid until September 30, 2023. If the evaluation (expected to take place in May) is favorable, the project will be extended.
The ticket remains non-transferable.
Free bicycle transport is only possible within the Rostock fare zone.
Taking people and dogs along is not possible.
This ticket is not valid for the Mecklenburgische Bäderbahn (Molli).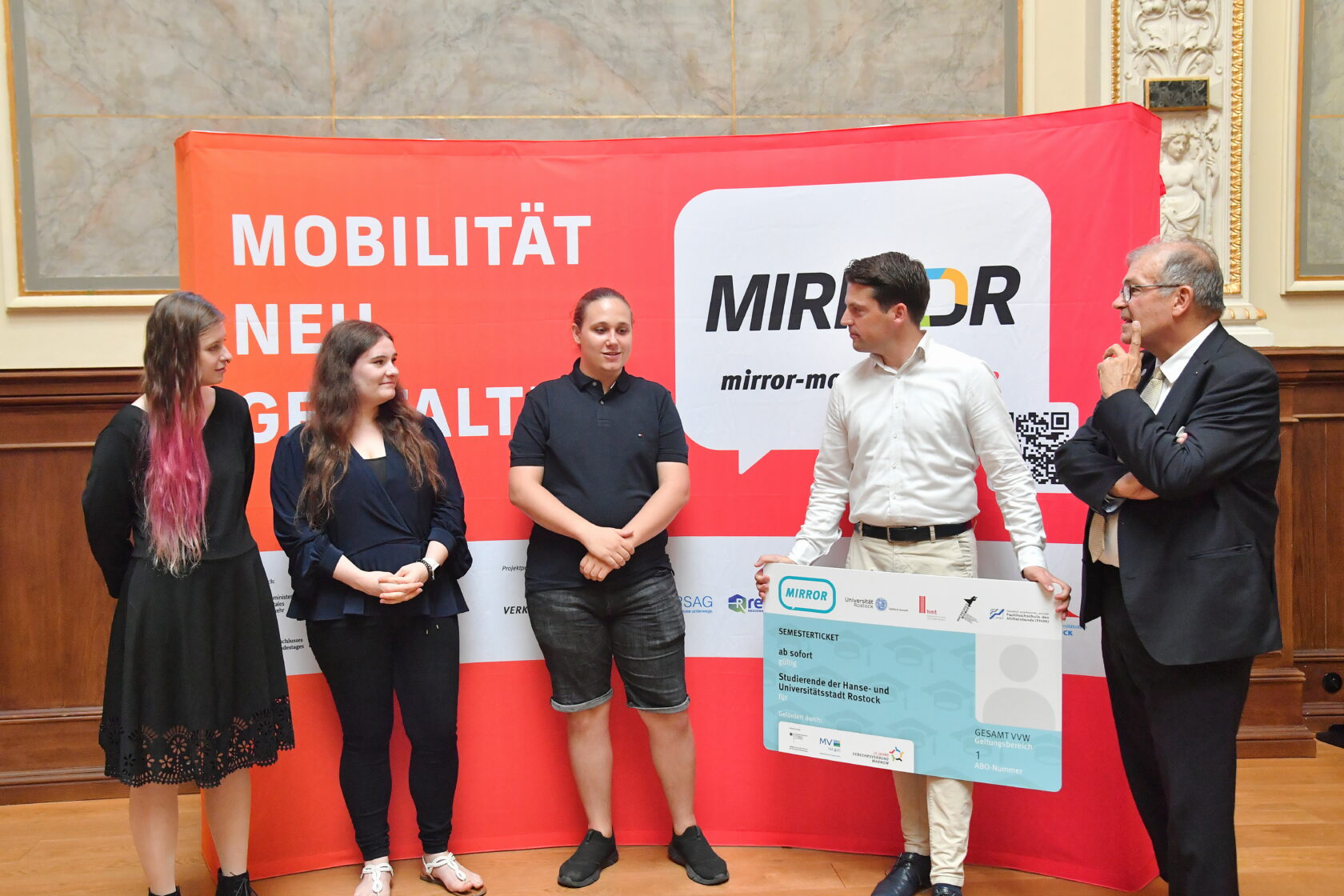 The AStA continuously works to improve the mobility of students and to make an affordable expansion possible. Currently, we are also keeping an eye on the successor of the 9-Euro-Ticket and the extent to which it will influence our semester ticket. We will keep you up to date on any developments.