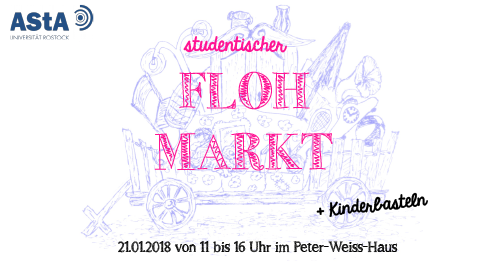 ***ENGLISH BELOW***
Das neue Jahr hat begonnen, der Frühling lässt noch auf sich warten und keine Lust mehr nur deine eigenen vier Wände zu sehen?
Dann beweg deine unnötig angefressenen Kilos, die sich über die Weihnachtszeit gesammelt haben, raus aus der Bude und komm zum Flohmarkt!
Hier ist der Ort, all die schönen Schrott-Wichtel-Geschenke, die zu eng gewordene Kleidung und jede Menge nützlichen und unnützen Kram loszuwerden oder zu finden- irgendwer kann es ja immer gebrauchen. Ob Bücher, Klamotten, Technik, hier kann für jede Altersgruppe gefeilscht und gestöbert werden.
Wann: 21.01.18, 11-16 Uhr
Wo: Peter-Weiss-Haus, Doberanerstr. 21
Interessant für Eltern und Kinder:
Für alle kleinen Flohmarkt-Begeisterten wird gebastelt.
Standanmeldungen per Mail an
flohmarkt@asta-rostock.de
****
The new year has begun and the spring is on his way. You don't want to continue sitting at home and staring at your walls? Then move your unnecessary eaten kilos which you collected over the holidays and come to the flea market. Here's the place to get rid of all the nice scrap-giveaway gifts, the over tightened clothes and lots of useful and useless stuff – maybe someone can use it. Whether books, clothes or technology, at our flea market it can be haggled and rummaged for every age group.
When: 21.01.18, 11-16 clock
Where: Peter-Weiss-Haus, Doberanerstr. 21
Interesting for parents and children:
For all small flea market enthusiasts tinkering is offered.
Stand registrations by mail
flohmarkt@asta-rostock.de