3. Lange Nacht (aufgeschobenen) Hausarbeiten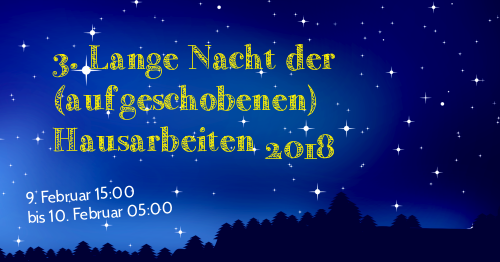 ***Englisch below***
Schreiben und Lernen bis der Tag anbricht? – in dieser Nacht geht das! In Anlehnung an den bundesweiten Aktionstag, öffnen wir für euch die Südstadtbibliothek bis 5 Uhr und den Bebel-Turm bis 22 Uhr. Start ist um 15:30 mit dem Bücherflohmarkt in der Südstadt-Mensa, ab 18:00 starten dann die einzelnen Workshops und auch die Rückenschule (immer zur vollen Stunde bis 24:00). Wer später noch Hunger hat, kann sich gerne den Magen mit einer Portion Suppe vollschlagen, die ab ca. 21:30 ausgegeben wird.
Höhepunkt ist die Podiumsdiskussion "Digitalisierung in der Lehre" um 19:00 im Rondell (Südstadt Mensa).
Kinder dabei? – kein Problem. Bis 21:30 findet eine Betreuung im KESS Raum statt.
Writing and studying til dawn? – just do it in this night! Referring to the national event, we're openingt the library Südstadt til 5 a.m and the Bebel-Tower til 10 p.m. It starts with a book flea market at 3.30 p.m in the Südstadt canteen and continues with the different workshops from 6 p.m on as well as with a back therapy training at the top of every hour. Hungry in the late evening? – No problem: we have hot soup for free, starting from approx. 9.30 p.m.